The cost of web design
What will it cost? is the biggest, most pressing question we get when discussing website development with prospective clients. It's a fair question, but not always the easiest to answer quickly, especially if you don't know the full scope of your own requirements. This is why we always offer a free meeting, during which we can learn more about each other, gather your requirements and move towards a creating a meaningful set of recommendations and a costed plan.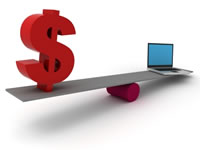 What factors affect website costs?
While budget can be the driving factor in determining the type of website development selected for some clients, normally we like to explore a wide range of factors before recommending the technologies to be used, including:
the total range of services, input, and training or orientation required
design finesse and customization
site features and processing (eg shopping cart, interactive map, calendar of events, etc.)
site complexity and security requirements (eg members' area login module)
if the site will require a back-end database
bilingual or multilingual requirements
social media integration
how the site's content will be updated (about 65% of our clients still like us to handle this, while the remaining third like to have total control over their own sites; some have custom content management systems that we've built, and others have off-the-shelf solutions)
plans for growth or change
The wonderful world of website technologies
Website design and development has changed a lot over the last decade and the options that we have to consider with clients has grown hugely. While the majority of our clients are still those who want a strong degree of design customization and finesse, and who need our services for custom websites and databases, a growing number of clients have needs that are a good fit for off-the-rack packages like WordPress.
We enjoy working on the full range of website developments, from the quick set-up and tailoring of a WordPress template site for a small business owner wanting total control over content updating, to the complex and dynamic website developments of clients with more demanding requirements and multiple streams for content display and updating.
What clients want
All of our clients have at least this in common: they understand the value of engaging professionals to work on their web project and desire a polished and functional end product. Typically, they are also prepared to trust us with their plans and aspirations and to consider new ideas or questions as we raise them to explore together. They also value the 360-degree perspective that we bring to web design and feel good knowing that we can make well informed recommendations on every aspect of their project.
Our first meeting is always free
We encourage all prospective clients to take a couple of hours to sit down with us to get into the nitty gritty of their project, as well as to share their larger goals and plans. From this, we can usually work towards a relevant and appropriately costed proposal.
Meeting face to face also gives us both a chance to see how we would work together and we're always happy to share ideas that we have for your project.
Contact us today to find our more.
Our technologies
We don't determine the technologies to be used for a project until we've done a full project requirement and specification process. However, the following are core technologies that Foil Media tends to use most frequently for developing custom websites:
Adobe Dreamweaver, Fireworks, CSS (Cascading Style Sheets), XHTML, Cold Fusion, MS SQL, Flash, Javascript.
For content management, we build custom CMS, use Adobe Contribute for some clients and WordPress for others.