Site map for Foil Media's website
Ottawa custom website: Body Poets Massage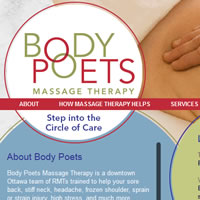 Body Poets Massage Therapy is a downtown Ottawa team of RMTs offering a wide range of services. We worked with Body Poets in 2013 to develop a strong new web presence for the business, working to streamline the customer experience and give the staff team a much-needed communications outlet in a new blog that is fully integrated with the site.
Owner Ellen Symons had this to say about the experience of working with Foil Media:
I am completely delighted that we chose Foil Media to work with us on a revision of our website. From the initial meeting, it was clear that our main contact, Dagne Forrest, and rest of the Foil Media team were oriented toward excellence, easy to get along with, and knew what they were talking about. Dagne gave us great guidance all the way along, helped us choose solutions that were right for our business, and communicated clearly in terms that made sense to us laypeople.
The end result is a revitalized web presence that is every bit as good as we imagined it would be. Feedback from our staff and clients alike is that the site is appealing, inviting, clear, beautiful, and easy to use. Dagne and the rest of the team worked closely with us to make sure the end product met our needs, and it does. I appreciate its depths and layers more fully each day; it is exactly what I wanted as the internet face of our business.