Site map for Foil Media's website
IT project management: Ottawa Centre for Regional Innovation (OCRI)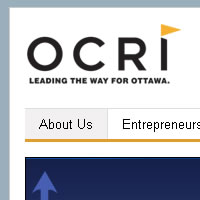 Leading the way for Ottawa, OCRI (now called Invest Ottawa) is the city's economic development agency. OCRI is the rallying point to bring business, research and talent together to create the winning economic conditions that allow Ottawa's knowledge-based companies to thrive locally and compete globally. OCRI promotes sustainable economic development to maintain the city's high quality of life.
In 2011 Foil Media worked with OCRI on the development of a broad three-year IT plan for this dynamic and evolving organization.
This process included a review of the organizaton's internal and external IT infrastructure and resourcing, and considered the best ways for OCRI to make optimum use of cloud-based computing and effectively address change management for the organization's approximately 60 staff members.