Site map for Foil Media's website
Almonte custom website: Culandubh Kennels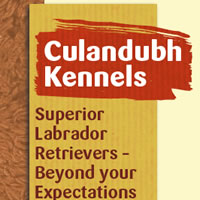 Foil Media was delighted at the opportunity to learn more about this unique business run by Laurel Cook and Ross McLaughlin, and the value they add throughout their work as breeders, trainers and providers of boarding facilities.
Their website and companion blog needed to be incredibly information rich to adequately convey both the work they do and the learning and resources that they need to share with potential customers and members of the "Culandubh Family".
We developed a custom website that conveys the beautiful richness of Laurel's own artwork (character and traditional portraits of labradors and other pets) while organizing for easy access a rich and varied range of information about Culandubh Kennels specifically and labrador retrievers more generally, including multiple photo galleries.
Read about the incredibly positive impact this new website has had on this business.